Mobile Facials & Skincare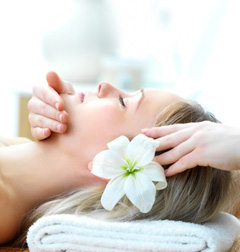 All Mobile Facials are 60 minutes – if you are interested in additional facial massage, delight in a 90 or 120 minute session.
Experience glow and soft skin – while you relax, revive and rejuvenate!
$125/60 minutes | $180/90 minutes| $225/120 minutes
Microdermabrasion Facial (75 mins $135)
Improve the texture and feel of your skin. Reduces appearance of fine lines, wrinkles and age spots. This treatment is a full facial with the added benefit of microdermabrasion.
Jessner Peel (30 mins $85)
A medium depth peel which exfoliates the outer layers of the skin and benefits oily or thick skin. Multiple sessions (4 to 6) are advised for maximum results.
TCA Peel (30 mins $85)
A light to medium chemical peel to help diminish pigmentation, discoloration and fine lines.
Sensational Signature European Swedish Facial — the focus is on cleansing and renewing! Your treatment is customized to meet your skin's needs and includes skin analysis, deep cleansing, a purifying and hydrating mask chosen for your specific skin type and a unhurried relaxing face, neck, shoulder arm and hand massage. Designed for men and women!
Anti-Aging Facial – The Signature Facial with Stress Relief Serum (add $15)
Cleansing Back Facial Treatment – The back is cleansed, followed by a relaxing massage using your choice of pressure to relieve tension. Steamed towels and a wonderful mask will be applied. Combine this with a facial and spoil yourself!
Pamper Me Palm Springs! – The definitive adventure for anyone who needs some serious rest and relaxation. The pampering process begins with our 'Signature Facial', designed to help you unwind. This facial is ideal for reduction of stress, fine lines, and wrinkles. During the entire session another therapist treats your legs and feet to an hour of massage and reflexology. $225 includes two therapists!
Express Facial – (30 minute | $60) This facial can be performed if combined with another treatment like a facial massage combo, etc.. Facial includes cleansing, exfoliation and facial massage.
Season of Beauty – Choose two services for 90 minutes! Choice of a combo of facial, massage or body wrap/scrub | $160 for 90 minutes of service.
NOTE: Must mention any specials when booking treatments!